Mission Trip
NEXT MISSION TRIP TO COSTA RICA
Thirty plus Uvalde Methodist Church members were part of a mission trip team to Costa Rica in June 2018 and twenty plus in 2019 in support of the ministry of Rev. Ray Zirkel. Their mission site was the Methodist Children's Home located just outside the community of Coronado.
Preliminary work on the home began in 2007 and construction of the first home was completed in March 2011. The first children arrived in June 2011. Work on the second home was finished in April 2014. In just a few short weeks it too was filled to capacity.
The team worked on applying stucco to a multipurpose building which will add a much needed resource (especially during the rainy season) for the home. Additional projects included work building a perimeter wall to secure the facility and painting the fence line. The group hosted Vacation Bible School for a local Methodist church and for the children at the home.
We will again be sending a Mission Team to help in the Costa Rica ministry from July 22nd – 29th, 2023. The team will continue to work on the church at Puerto Viejo, applying mortar and stucco. They will also host two Vacation Bible Schools for the children in the community.
Team members this year are Kay Brieden, Sandra Cox, Travis Johnson, Mark and Diane Underwood, and Clark Ward. Your prayers and support for the team and their mission are coveted and greatly appreciated.
If you are interested in supporting the mission team financially, please make your donation to Uvalde Methodist Church and designate it "Mission Trip." For more information on the trip, please contact Sandra Cox at 830.278.3135.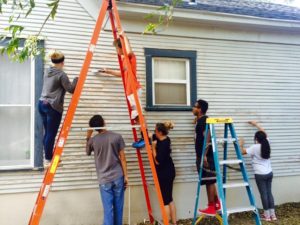 Our youth and youth sponsors are participating in H.O.T.T. Days this summer (Helping Out The Town) with other area churches to work the mission field here in Uvalde, Texas by cleaning yards and homes, completing minor repairs, painting, etc.
Call the church office at 830-278-3135 for more information.